Onion
Onion Paste, Fried Onions, Concentrate and Extract, Crunchions
The onion is a fixed part of the local cuisine for most people. No wonder, with its pungent and rich taste. Our range of onion products is as complex as the plant itself. Starting with the onion paste, fried onions, concentrates and extracts up to the crunchions, everything is included.
Made of fresh onions of high quality, to capture full intensity of the aroma and quality of natural ingredients.
We only produce after order = 100% freshness
Both conventional and organic quality available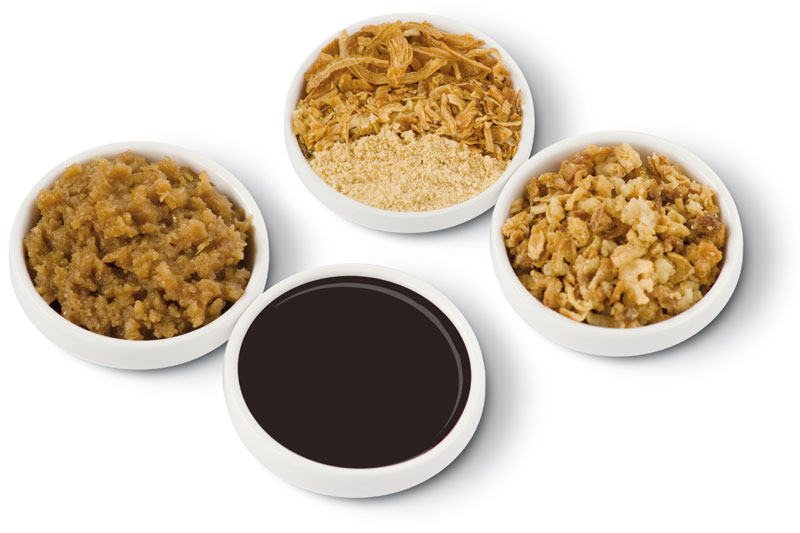 On principle, we use no chemical preservation. In Addition, we do not heat our products for preservation purposes.
Packaging standards are alterable according to customer specification and packaging in customer's own conatainers and marking with customer's own labels (private labelling) is also possible.
Application: cantines, ho-re-ca kitchens, instant products, soup/stew/seasoning mixes, frozen meals, pizza, speciality bread and pastry, cheese
Dried onion gently fried in high quality vegetable oil. The low fat content ensures the product a long shelf life. You choose the degree of frying. We can provide Fried Onion in granule or powder form – grain sizes are made to suit your requirements.

Onion juice concentrate is produced from freshly pressed juices. The water is then removed from the juice using vacuum reduction at low temperatures (60 – 80 °Brix). The aroma of the juice is then re-introduced by an add back process to intensify the fresh taste of the juice. Fried onion extract is produced from onion juice concentrate fried in sunflower oil.